NATURE & COMFORT holiday!
Surrounded by an amazing panorama, you'll find all comforts...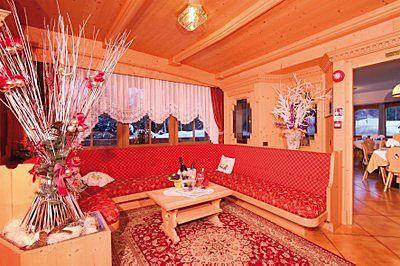 The Villetta Maria Hotel, surrounded by nature in a tranquil and picturesque position at the foot of the Marmolada and Gran Vernel Mountain, provides:
:: restaurant, bar, Stube, maxi-screen TV satellite & meeting room;
:: garden terrace;
:: private car-park;
:: Internet Wi-Fi;
:: play area for children (summer).
FOR YOUR WHITE HOLIDAY
:: Private shuttle to and from the ski lifts (free of charge);
:: Ski bus stop 350 m;
EXTERNAL SERVICES:
Mini club for our young guests, who can spend a fun vacation and meet new friends.
Ski school and day care on the snow in Canazei >>
AFFILIATED EXTERNAL SERVICES:
Cultural excursions in the mountains with qualified guides: winter and summer programmes upon request.
EXTERNAL SERVICES ASSOCIATED WITH UHC (in summer):
The FASSA PARK in Canazei is available for the guests of the Hotel Villetta Maria. The park is the ideal place to spend pleasant moments in the relaxation zone and the best playground for children, with games, elastic carpets (trampolines) and table soccer. The Fassa Park has also a covered awning of 500 sm, heated in case of bad weather, which is a wonderful location for music parties and entertainment activities.
Summer Fassalandia program: a lot of activities for children in summer: mineralogy workshops; outdoor entertainments; treasure hunts; shows and excursions to enjoy real contact with nature.
Summer program GAZZETTA SUMMER CAMP: from June to September.
ACTIVITIES FOR FREE in summer: (on request with VAL DI FASSA CARD):
- Introduction to climbing: courses with alpine guides (for children from 7 up to 14 years, on Tuesdays);
- around the mountains: guided excursions to discover the mountain life and visit local mountain huts (products tasting against payment. On Wednesdays, Thursdays and Fridays);
- workshops: for adults and children to learn something more about the geology and mineralogy of the Dolomites (on Mondays and Wednesdays).
For our guests only, easy mountain walks to discover the territorial culture and the alpine environment guided and organized by DOLOMITI EXPLORA (on Mondays).
Contact our Booking Centre to get more information and verify which offers require and additional payment
UNION HOTELS CANAZEI CAMPITELLO DI FASSA by FASSA HOTELS GROUP Srl
Via Roma 32, 38032 CANAZEI (Tn)
Tel 0462/601033 - Fax 0462/601527
info@unionhotelscanazei.it
Foto correlate: